Nordica's First Baby Clocks 10!!! The Story So Far By Dr Abayomi Ajayi
Nordica's First Baby Clocks 10!!! The Story So Far By Dr Abayomi Ajayi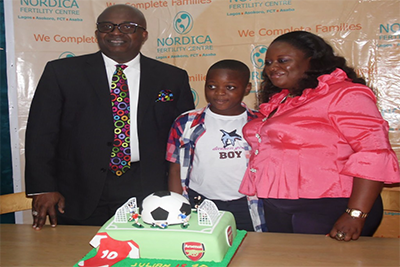 Published September 10, 2014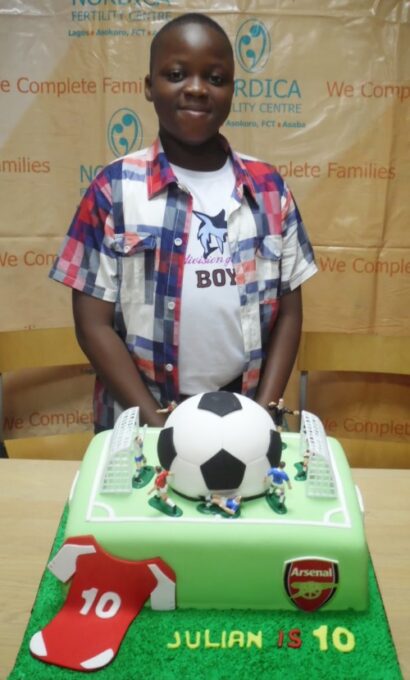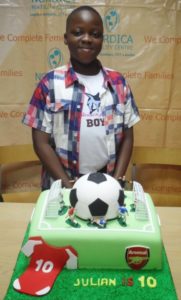 Nordica's first baby, Julian
Just over 11 years ago, Nordica opened her doors and ushered in a new era. Ten years ago, Nordica proudly ushered in the first fruit of her efforts…her first baby, Julian. Today we harbour the incomparably excited mood as we all assemble here, celebrating the 10th birthday for Julian and I am thankful for being here today to witness this occasion.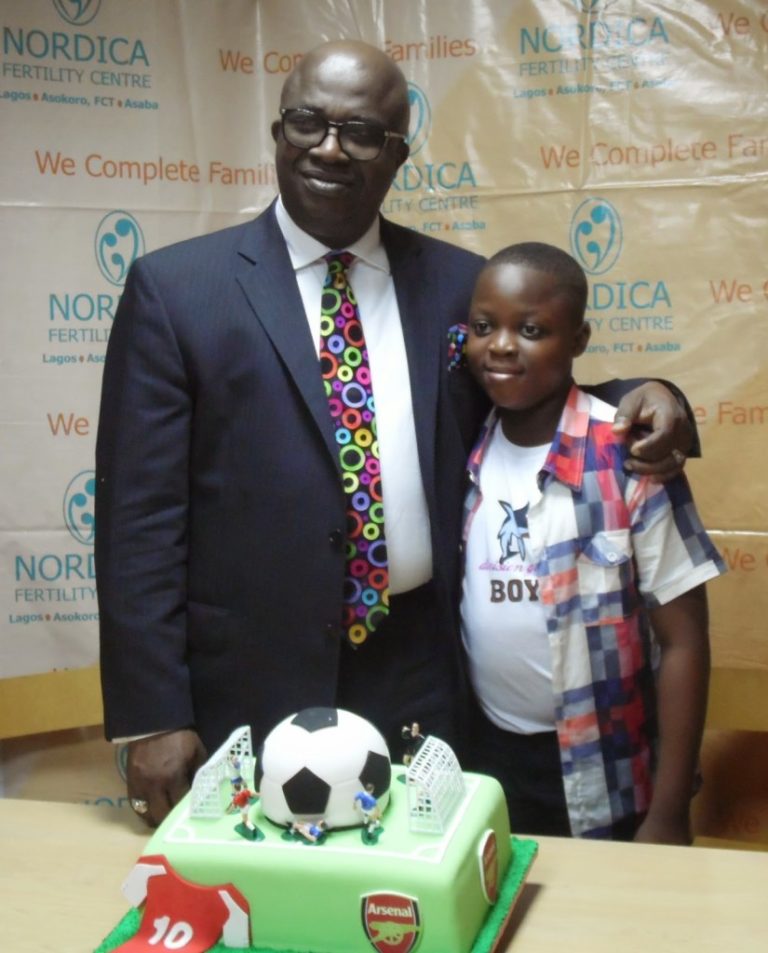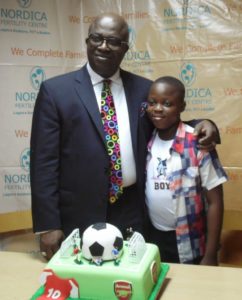 Julian & Dr Abayomi Ajayi(MD/CEO Nordica Fertility Centre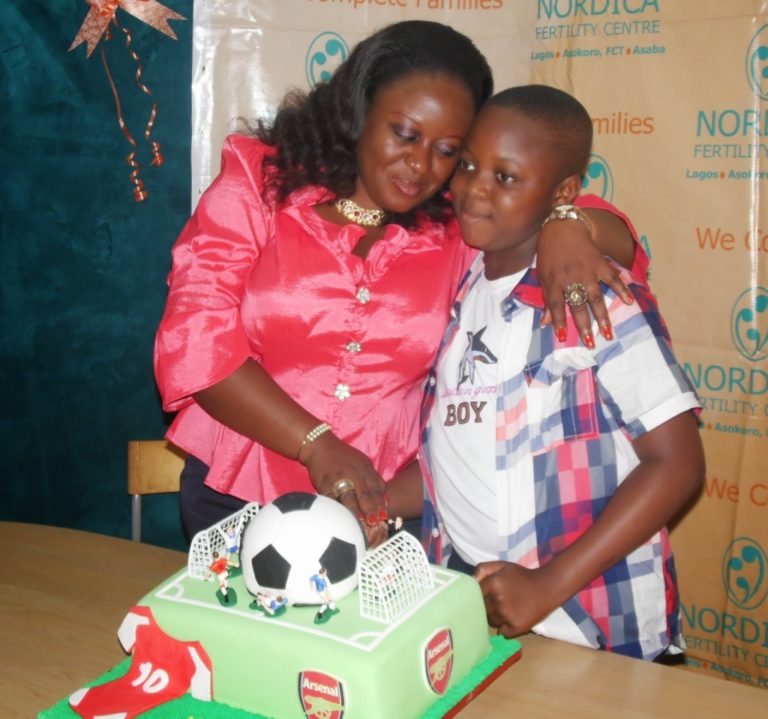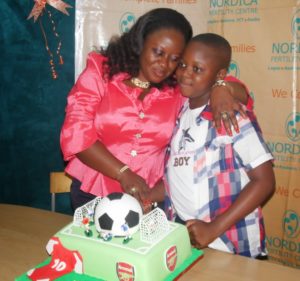 Julian & Mum
The initiatives related to reproductive healthcare have also gained tremendous momentum and has played an indispensable role in the preservation and promotion of bringing joys to a lot of homes.
Julian's parents walked into Nordica Fertility Centre on 11th October, 2003 and four months down the line after just one treatment cycle, the couple's were greeted with the good news of the mother being pregnant with Julian. On September 14, 2004, the couple's were blessed with Julian.
Julian represents a new beginning in the history of Nordica, a new hope for parenthood.  As Barack Obama said…"The best way to not feel hopeless is to get up and do something…"
We were then – and still are – driven by our essence, which is completing families. The numerous successes recorded within the organisation (and still counting) can be attributed to God, the hardworking staff and the clientele who have reposed their trust in us.
About Nordica: In keeping hopes alive by "Completing families" this brought about the vision of setting up Nordica Fertility Centre, Lagos. Conceived in 2003, our primary aim being to combat the plague of infertility by providing true 'comfort centres' where the pain of childless couples could be soothed both emotionally and medically.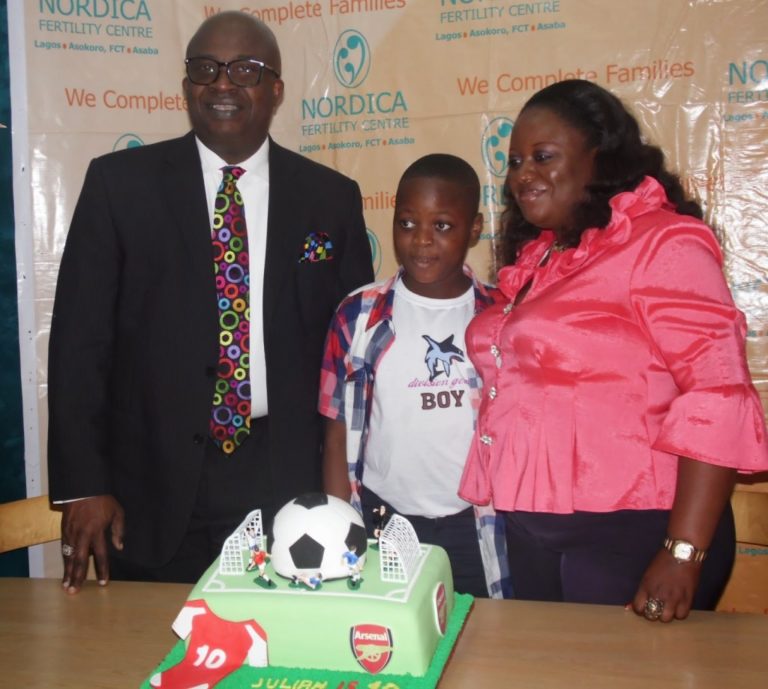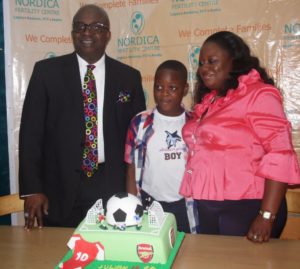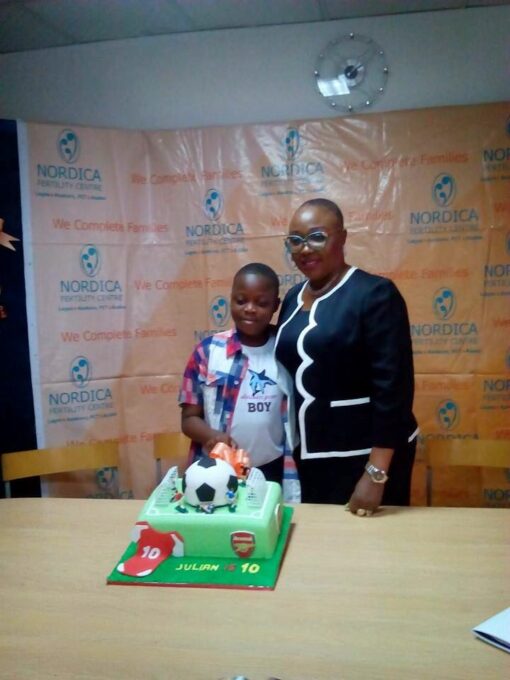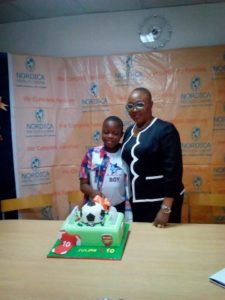 Julian & Mrs Ajayi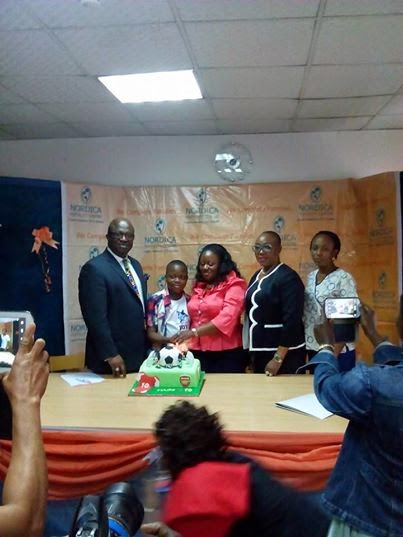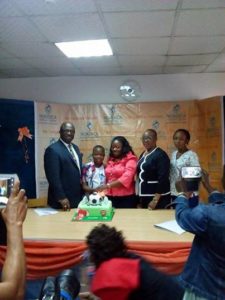 Our first Centre opened on the 14th of April, 2003 at Victoria Garden City, Lekki Lagos. But owing to our desire to be close to our Clients and the fact that we were also rapidly expanding, we moved to Ikoyi, Lagos in January 2008.
Our Yaba Clinic opened its doors in October 2003 and in our bid to make our Clients the centre of our world, we opened another Clinic in Asaba in November 2009 and our newest Centre in Asokoro Abuja was commissioned in November 2012.
Our story has been one with a number of "firsts", some of which include:
The first IVF clinic to have a baby from Laser assisted hatching
The first and probably the only IVF centre to use/using IMSI to solve male related infertility issues.
The first IVF Clinic in Nigeria to start Oocyte cryopreservation, otherwise known as Egg freezing.
The first solely dedicated IVF centre in Abuja.
We are also one of the few clinics in Nigeria to do Pre-Implantation Genetic Diagnosis
The first to utilise acupuncture for IVF treatment
Whilst we have achieved monumental growth in the number of babies conceived, we have equally not neglected our corporate social responsibility. Working in conjunction with the Fertility Treatment Support Foundation (FTSF), free fertility treatments have been made available to over 30 couples with diverse infertility challenges.  We also work with the ESGN (Endometriosis Support Group Nigeria) the only Foundation supporting this cause in West Africa.
The lack of information about fertility options coupled with the stigmatisation associated with childlessness has contributed to the reason why a lot of people do not explore the possibility of assisted conception. This should not be seen as a taboo but seen as a means to an end.
As late Maya Angelou said "Stepping onto a brand-new path is difficult, but not more difficult than remaining in a situation, which is not nurturing to the whole woman."
In view of the above successes recorded, first with Julian our first baby and all those that came thereafter has necessitated the need for further advocacy by the parents in order to share the good news. This advocacy group FAAI (Fertility Awareness Advocate Initiative) born out of this need have continuously educated and shared their experience to others of their not so blissful journey but a joyous finish. Lastly, the financial aspect is now being made more affordable as there are financial options (loans) and other benefit schemes available.
Dearest Julian, you are like a son to us all here, our greatest achievement indeed and we wish you a very happy birthday and more prosperous years. You shall continue to be a joy to your parents and the society. God bless you.