Advantages & Disadvantages Of Blastocyst Transfer For IVF
Advantages & Disadvantages Of Blastocyst Transfer For IVF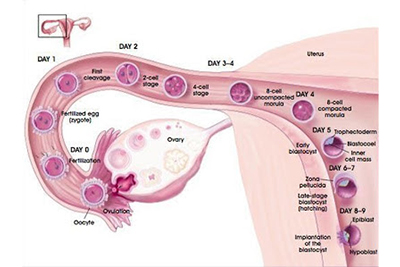 In natural conception, day 2 to 3-day-old embryos are normally found in the fallopian tubes, not in the uterus. The embryo first moves into the uterus at about 80 hours after ovulation. The embryo implantation process begins about 3 days later – after blastocyst formation and hatching out of the embryonic shell (called the zona pellucida) have occurred. Therefore, if In vitro culture conditions are maximized so that healthy blastocysts form at a high rate, then blastocyst embryo transfer can be done on day-5; at a more "natural" time for the embryos to be in the uterus, and very shortly before actual invasion and embryo implantation. The uterine lining at day-5 blastocyst transfer should be ideal and receptive to the arriving embryo – this is the same timing as occurs in a "natural" pregnancy situation. Transferring blastocysts following IVF also provides another potential benefit – reduction of the possibility of multiple pregnancy. Some 2 or 3-day-old embryos do not have the capacity to become high quality blastocysts and a viable pregnancy. However, on day two or three of culture we do not have reliable methods to determine which embryos will be viable long-term, and which ones will arrest their development within a day or 2.
By culturing embryos out to the blastocyst stage we will find that some of them have not become blastocysts – allowing us an opportunity to choose the most competent embryos for transfer. We can then transfer fewer embryos and still obtain high pregnancy success rates – with little or no risk for high order (triplets or higher) multiple pregnancy.
In the past, it was very difficult to get good numbers of high quality blastocysts with In vitro culture systems – unless "feeder" cells were utilized – this technique is called coculture. However, since the late 1990's advanced culture media have been available that (when used properly) can yield high blastocyst formation rates.
This makes day-5 blastocyst embryo transfer a viable IVF treatment option for many couples with infertility but note that blastocyst transfer does not make the process a 100% in any way in relation to assisted conception.
DISADVANTAGE OF BLASTOCYST TRANSFER
If the IVF clinic is proficient at blastocyst culture and has excellent quality control in the laboratory, there should really not be any disadvantages to day-5 blastocyst transfer. However, if the culture environment is suboptimal, delayed embryo development and even embryonic arrest will occur – at least in some cases. Therefore, if the culture system and quality control in an IVF lab are inconsistent, good results will not be obtained with extended culture to day-5. Such programs will do better with day-3 embryo transfers – putting back the embryos earlier, before they are "stressed" too much in the weak culture environment.