Endometriosis Facts
Endometriosis Facts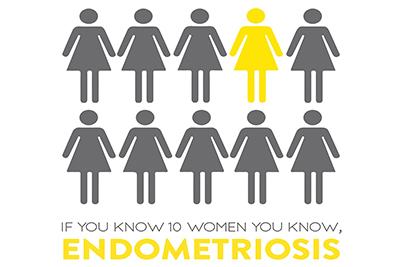 Endometriosis is the abnormal growth of cells (endometrial cells) similar to those that form the inside of the uterus, but in a location outside of the uterus.
Endometrial cells are cells that are shed each month during menstruation.The cells of endometriosis attach themselves to tissue outside the uterus and are called endometriosis implants. These implants are most commonly found on the ovaries, the Fallopian tubes, outer surfaces of the uterus or intestines, and on the surface lining of the pelvic cavity. They can also be found in the vagina, cervix, and bladder, although less commonly than other locations in the pelvis. Rarely, endometriosis implants can occur outside the pelvis, on the liver, in old surgery scars, and even in or around the lung or brain. Endometrial implants, while they can cause problems, are benign (not cancerous).
Endometriosis affects an estimated 1 in 10 women during their reproductive years (i.e. usually between the ages of 15 to 49), which is approximately 176 million women in the world.
However, endometriosis can start as early as a girl's first period and the menopause may not resolve the symptoms of endometriosis, especially if the woman has scar tissue or adhesions from the disease and/or surgery.
The exact cause of endometriosis has not been identified.
Endometriosis is more common in women who are experiencing infertility than in fertile women, but the condition does not fully prevent conception.
Pelvic pain during menstruation or ovulation can be a symptom of endometriosis, but may also occur in normal women.
Endometriosis can be suspected based on the woman's pattern of symptoms, and sometimes during a physical examination, but the definite diagnosis is confirmed by surgery, usually laparoscopy.
Treatment of endometriosis includes medication and surgery for both pain relief and treatment of infertility if pregnancy is desired.
Even though endometriosis is associated with inflammation and immunological dysfunctions, it has not been proven itself to be an autoimmune disease.