Fertility Talk With Dr Ajayi: Unexplained Infertility
Fertility Talk With Dr Ajayi: Unexplained Infertility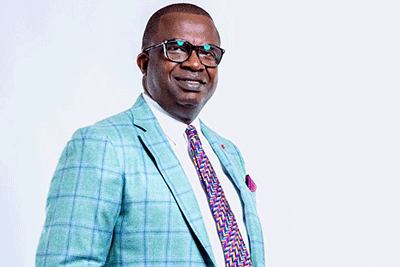 First Published August 2013
EVERYTHING LOOKS NORMAL, BUT SOMETHING'S WRONG
Many people may not have met or known Beatrice. She is just as average Nigerian woman in her mid 30's struggling to make ends meet in a competitive world where only the fittest can survive. But after spending a few minutes with her, it would be all too easy to discover her remarkable and painful story that resulted in the birth of her first child. About eight years ago, Beatrice met and married George, the man she describes as the "man of her dreams". The new couple had every desire to being a family as soon as possible. They were so expectant they believed with every hope to conceive a child on their honeymoon. However, the magic of the honeymoon did not result in the wonder of an expanding family, for the next two years that followed; the sadness of the new couple grew as each month went by with no signs of pregnancy. Finally, after much though and deliberation, the decision was made to consult a fertility specialist, but in spite of multiple tests, all that the distraught couple heard was the diagnosis they had heard all too often – unexplained infertility. The doctors explained to Beatrice that it could take years for her to become pregnant naturally. Her intense desire to have a baby and the fact that she was now in her 30's caused her and her husband to want to give IUI (intra uterine insemination) a trial as a possible route to realize their desire to have children. It opened a completely new chapter in their lives and marriage. With so much enthusiasm and expectation, Beatrice began with her first IUI treatment, an attempt that sadly resulted in failure.
Another attempt that followed could be described as a "testing time" in the marriage of the couple. To cut a long story short, Beatrice eventually underwent three unsuccessful IUI cycles. George would help to administer the drugs & injections, but after time, the pain did not result in any gain and sadly no positive pregnancy tests. For Beatrice, it was a time of loneliness and desperation. She had much trouble coping with the demands of her fertility treatments. Why was she not getting pregnant? It was a poser to which even the fertility experts couldn't find an answer. Unable to find out what was preventing her from conceiving, Beatrice became even more desperate. She was willing to try almost anything. It was a "mind-boggling" period and a time of "heart break" for the young couple.
After the three unsuccessful IUI procedures, a fourth attempt and what could be regarded as a "last ditch" attempt was made utilizing an IVF (In-vitro Fertilization) procedure where fertilization occurs outside the body and the fertilized eggs are returned into the uterus. Beatrice and George waited anxiously for the result. It was the longest wait of their lives, but it was worth it. Success! At long last, the long-awaited pregnancy test showed the right colour, but the hard part was still not over.
Anytime she is asked, Beatrice always describes her pregnancy in both positive and negative terms. It was a kind of a bitter/sweet mixture. In one breath, she refers to it as a time of "anticipation, optimism and dream." In another breath, she says it is an experience of "fear, insecurity and self doubt". The pendulum of her emotions swung far
in both directions. As a result of numerous complications that put the health and life of her growing baby at risk, at the 24th week of gestation, Beatrice had to be admitted in hospital for compulsory bed rest.
Her pregnancy was termed "high risk" and she was confined to remain on bed rest until she was to deliver. The couple's pain, prayers and tears finally resulted in a genuine miracle one rainy night a little over 12 weeks later with the birth of a healthy baby boy. For Beatrice, the birth of her son was much more than a great relief. It was more of a personal miracle. Becoming parents after eight year of searching was the greatest
achievement and most humbling experience both had ever known.
In several ways, Beatrice and George's personal struggle against the phenomenon of unexplained infertility is a reflection of similar experiences of millions of men and women. The good thing in all this is that there is always a beacon of hope at the end of the tunnel. There are the most modern and very best in comprehensive treatment options and counsel from experienced researchers and medical practitioners whose only desire is to be a resource that will help couples like this realize their own personal miracle of producing their own baby.
Unexplained infertility is a diagnosis encompassing many possible abnormalities resulting in a less efficient conception process. It defines couples with normal tubes, normal ovulation and normal semen analysis who experience infertility. There are many possible causes, and some can be treated with assisted reproductive technology while some abnormalities are beyond the reach of our current knowledge. Usually, empiric treatment with inseminations is the most appropriate plan for three to six months before a more aggressive treatment with IVF is recommended since many couples will conceive with less invasive and less costly treatment.
Eventually most couples with unexplained infertility do get pregnant. The problem may be an inefficiency that can be overcome with time and more attempts at conception. Most patients with unexplained infertility conceive within six to seven years. Perhaps a younger patient can afford the wait, but older patients do not always have the luxury of time. But there is always hope.
Read Part 2 Here