Sperm Killers: Your Toxic Shower
Sperm Killers: Your Toxic Shower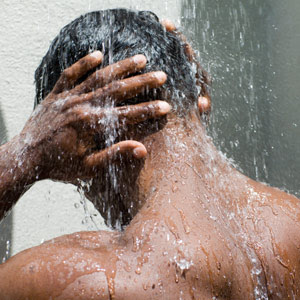 Exposure to Phthalates in scented soaps, shampoos, cleaners, and in vinyl shower curtains (Ever noticed those things can give you a headache when you first hang them up?) is associated with increased risk of impaired sperm quality. And the heat from your shower makes it easier for the chemicals to be released.
Infertile couples are exposed to three to five times higher levels of phthalates compared to fertile couples who have naturally conceived a child. Phthalates can act as endocrine disrupting chemicals, mimicking or interfering with the actions of natural hormones like estrogen. Phthalate exposure is associated with lower sperm concentration and decreased sperm motility in men's semen, as well as with decreased blood levels of important hormones in men.
Protect yourself: Choose a simple soap-and-shampoo-in-one, such as plant-based, unscented and mild shampoo, it does the job. Plus, it's free of harmful phthalate-containing products. Avoid personal-care products that have a fragrance or scent. And invest in a long-lasting hemp shower curtain instead of buying vinyl curtains every month or two.